Learn More
amfAR Policy Briefs
Toward an Effective Strategy to Combat HIV, Hepatitis C and the Opioid Epidemic: Recommendations for Policy Makers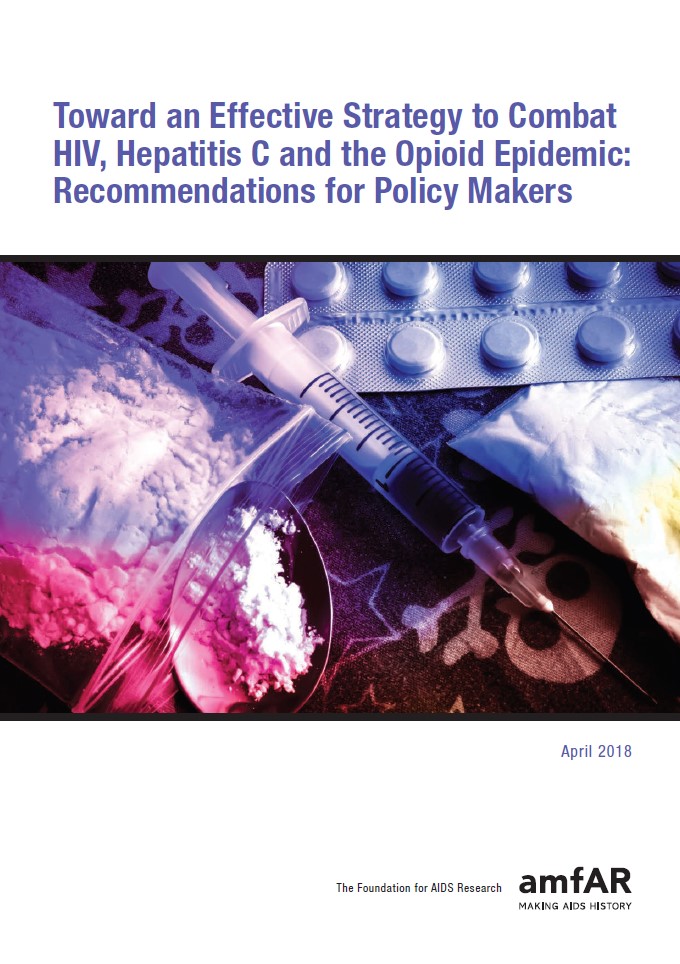 April 2018
Mitigating the long-term harms for people with substance use disorders will require a multifaceted strategy that increases access to treatment, reduces the risk of HIV and hepatitis C acquisition, and lowers the risk of fatal drug overdoses. This report describes a set of recommendations to accomplish these aims.
The report is available here.
The Case for Supervised Consumption Services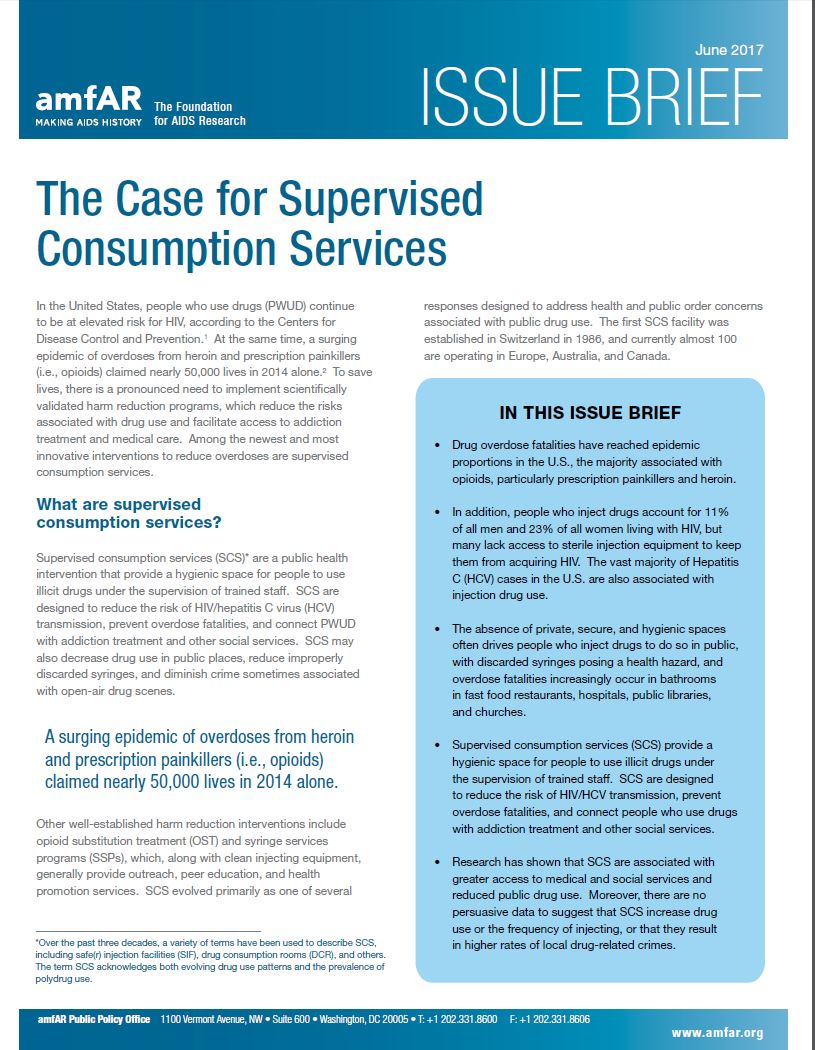 June 2017
Supervised consumption services (SCS) provide a hygienic space for people to use illicit drugs under the supervision of trained staff. SCS are designed to reduce the risk of HIV/HCV transmission, prevent overdose fatalities, and connect people who use drugs with addiction treatment and other social services.
The report is available here.
Preventing HIV and Hepatitis C Among People Who Inject Drugs: Public Funding for Syringe Services Programs Makes the Difference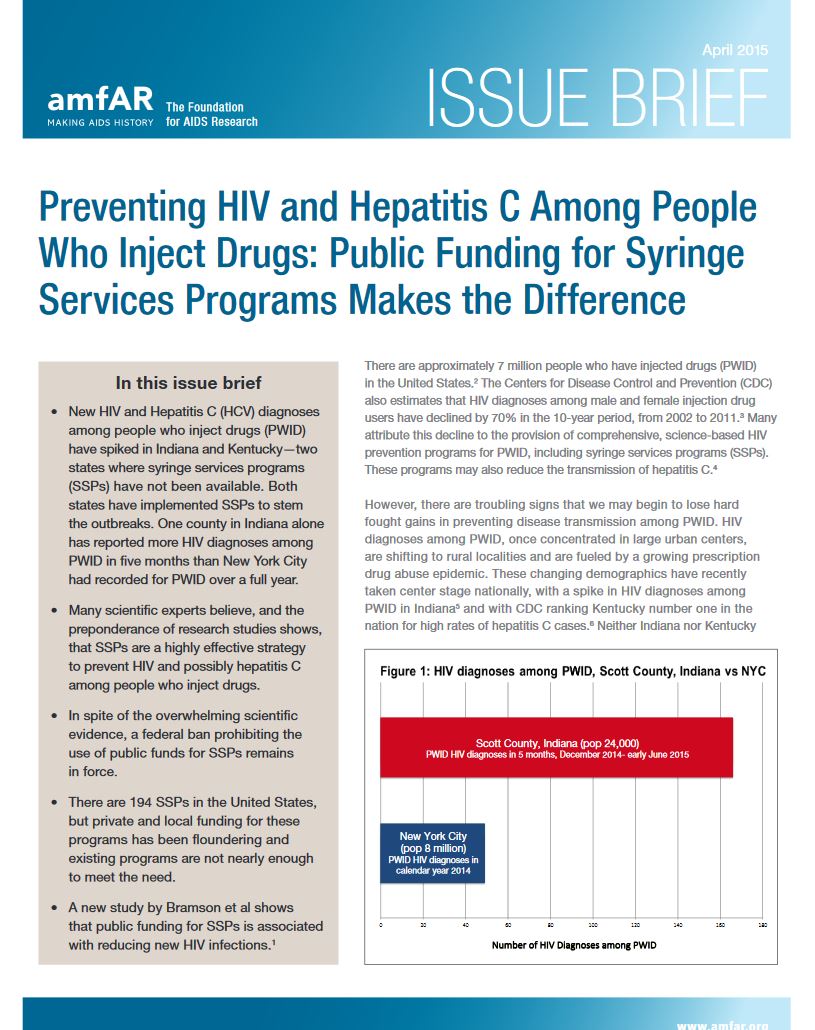 April 2017
The Centers for Disease Control and Prevention (CDC) estimates that HIV diagnoses among injection drug users (IDU) declined by 70%, from 2002 to 2011. Many attribute this decline to the provision of comprehensive, science-based HIV prevention programs for IDU, including syringe services programs.
The report is available here.
Special Report: Harm Reduction and the Global HIV Epidemic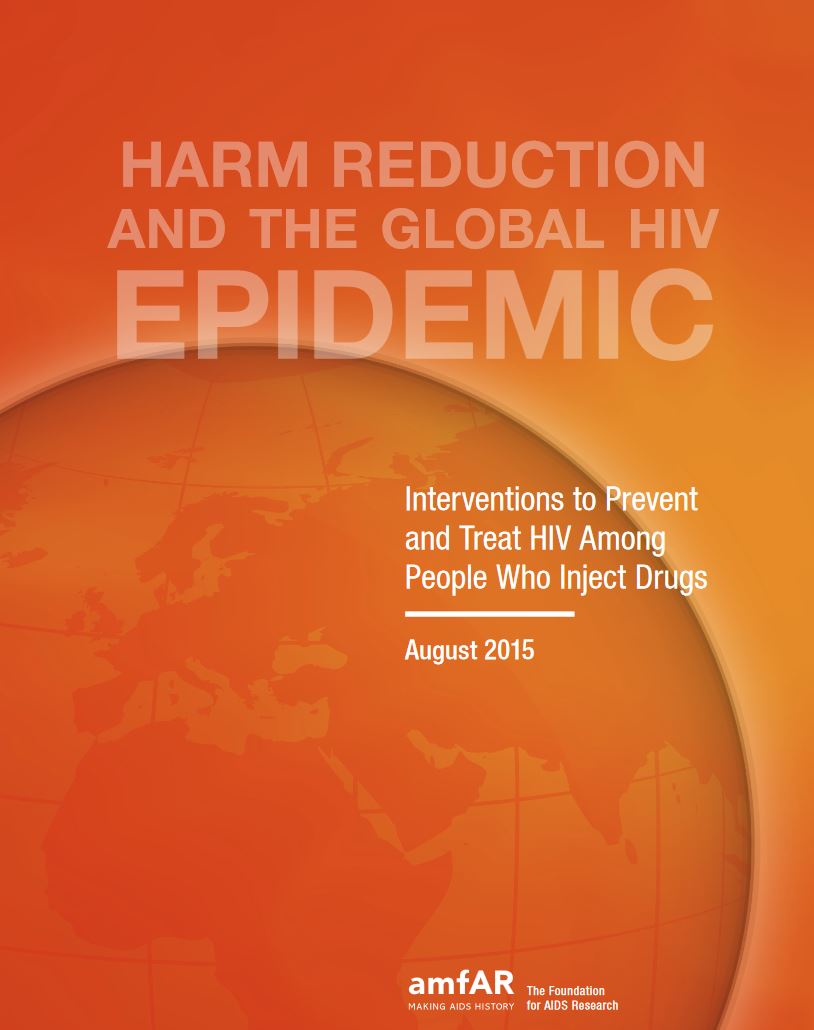 September 2015
This report assesses the state of harm reduction worldwide by focusing on the steps that five sample countries—Kenya, Kyrgyzstan, Nigeria, Ukraine, and Vietnam—have, or have not, taken to address the HIV epidemic among people who inject drugs (PWID). The report, titled Harm Reduction and the Global HIV Epidemic: Interventions to Prevent and Treat HIV Among People Who Inject Drugs, also examines the role of international donors, such as the U.S. President's Emergency Plan for AIDS Relief (PEPFAR) and the Global Fund to Fight AIDS, Tuberculosis and Malaria, in funding and implementing HIV services for PWID.
The report is available here.
A Clear Case for Supporting Syringe Services Programs: New Study Shows Relationship Between Public Funding and Lower HIV Incidence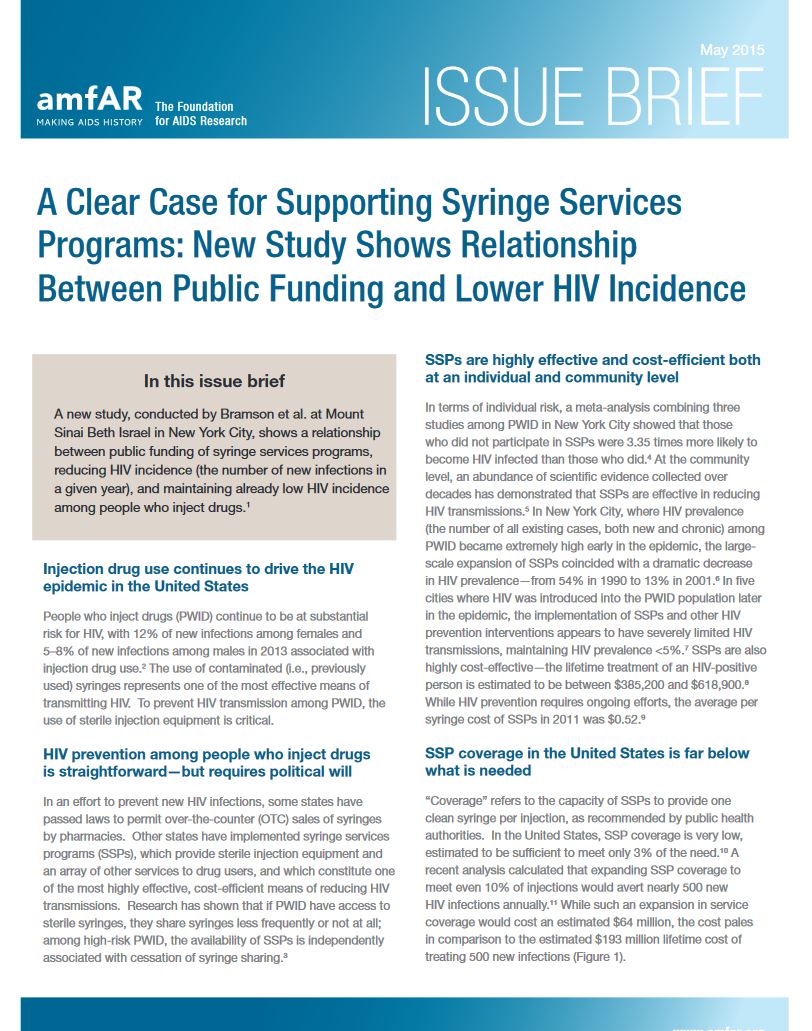 May 2015
A new study, conducted by Bramson et al. at Mount Sinai Beth Israel in New York City, shows a relationship between public funding of syringe services programs, reducing HIV incidence (the number of new infections in a given year), and maintaining already low HIV incidence among people who inject drugs.
The report is available here.
Hepatitis C and Drug Pricing: The Need for a Better Balance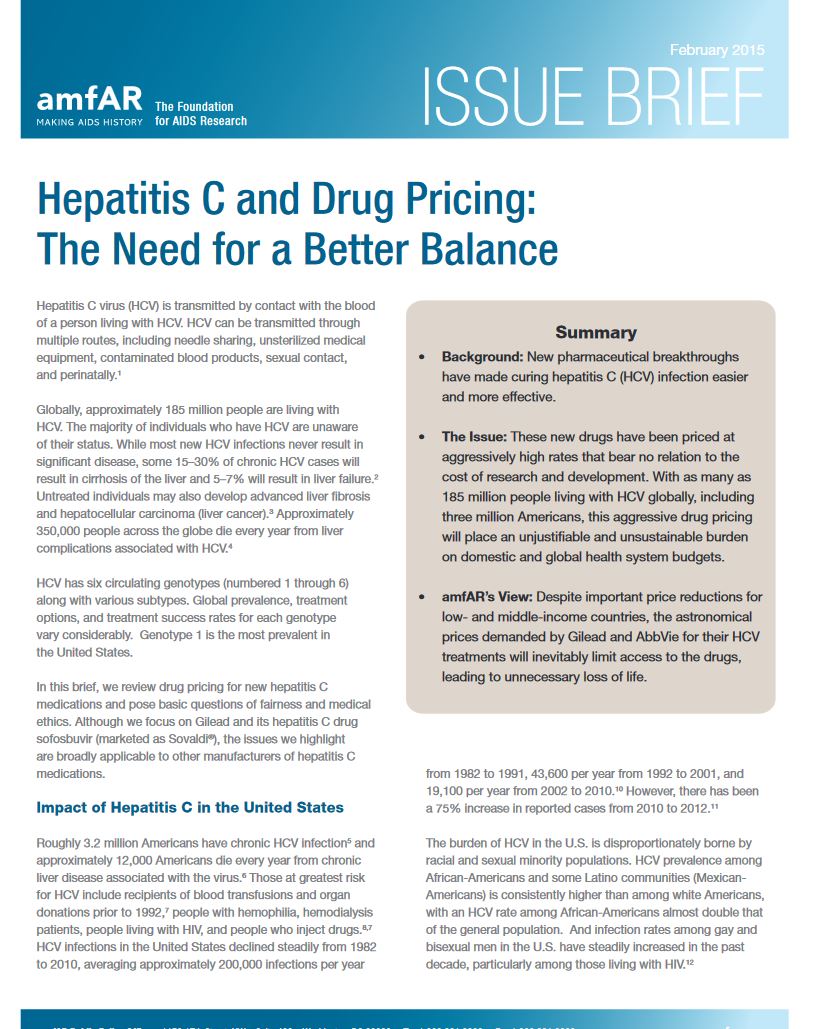 February 2015
Despite important price reductions for low- and middle-income countries, the astronomical prices demanded by Gilead and AbbVie for their HCV treatments will inevitably limit access to the drugs, leading to unnecessary loss of life.
The report is available here.
Federal Funding for Syringe Services Programs: Saving Money, Promoting Public Safety, and Improving Public Health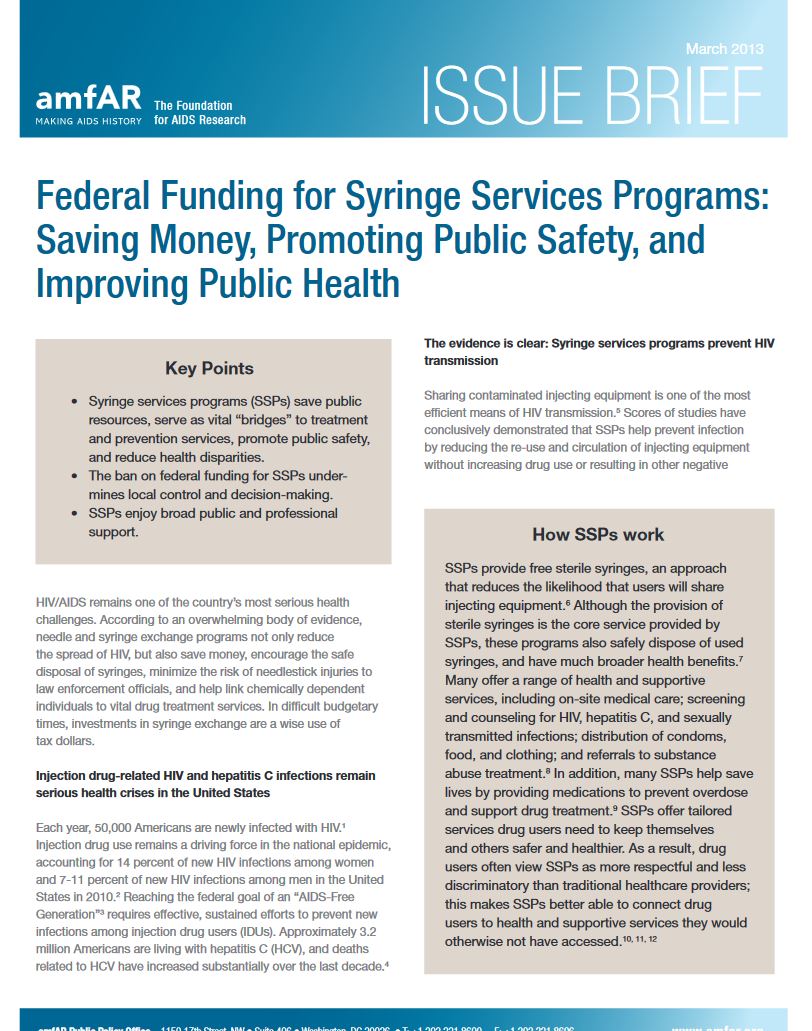 March 2013
According to an overwhelming body of evidence, needle and syringe exchange programs not only reduce the spread of HIV, but also save money, encourage the safe disposal of syringes, minimize the risk of needlestick injuries to law enforcement officials, and help link chemically dependent individuals to vital drug treatment services.
The report is available here.
Public Safety, Law Enforcement, and Syringe Exchange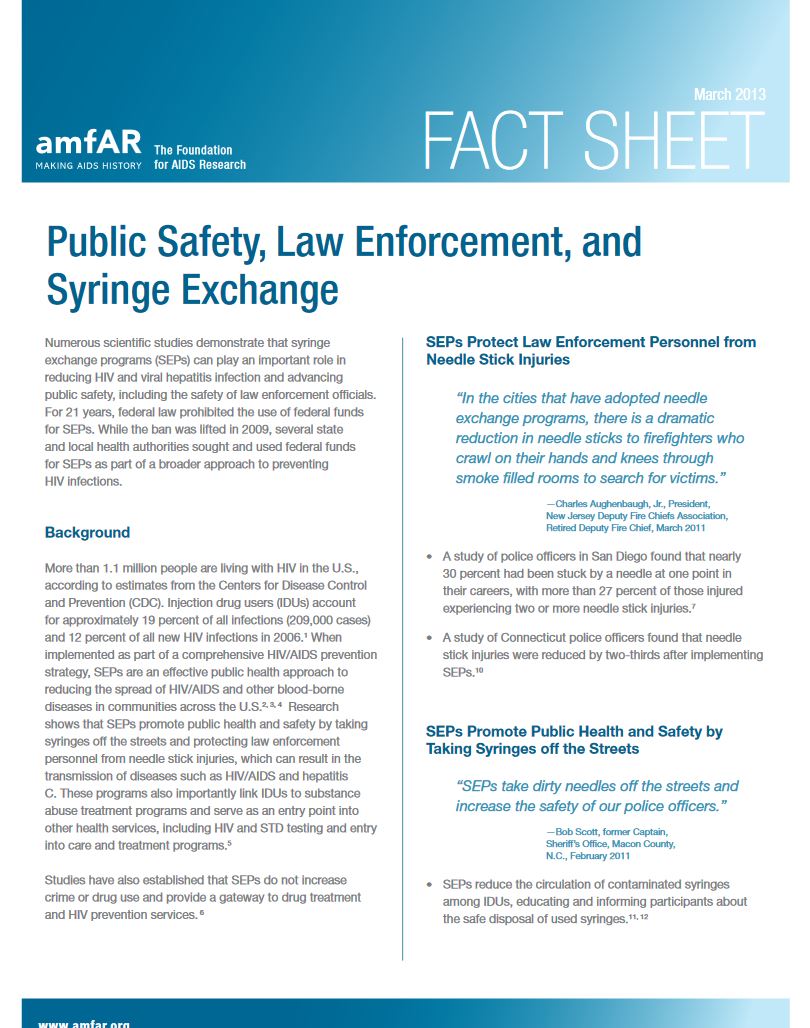 March 2013
Numerous scientific studies demonstrate that syringe exchange programs (SEPs) can play an important role in reducing HIV and viral hepatitis infection and advancing public safety, including the safety of law enforcement officials. For 21 years, federal law prohibited the use of federal funds for SEPs. While the ban was lifted in 2009, several state and local health authorities sought and used federal funds for SEPs as part of a broader approach to preventing HIV infections.
The report is available here available here.
amfAR Infographics
Hepatitis C in the United States: A Hidden and Growing Epidemic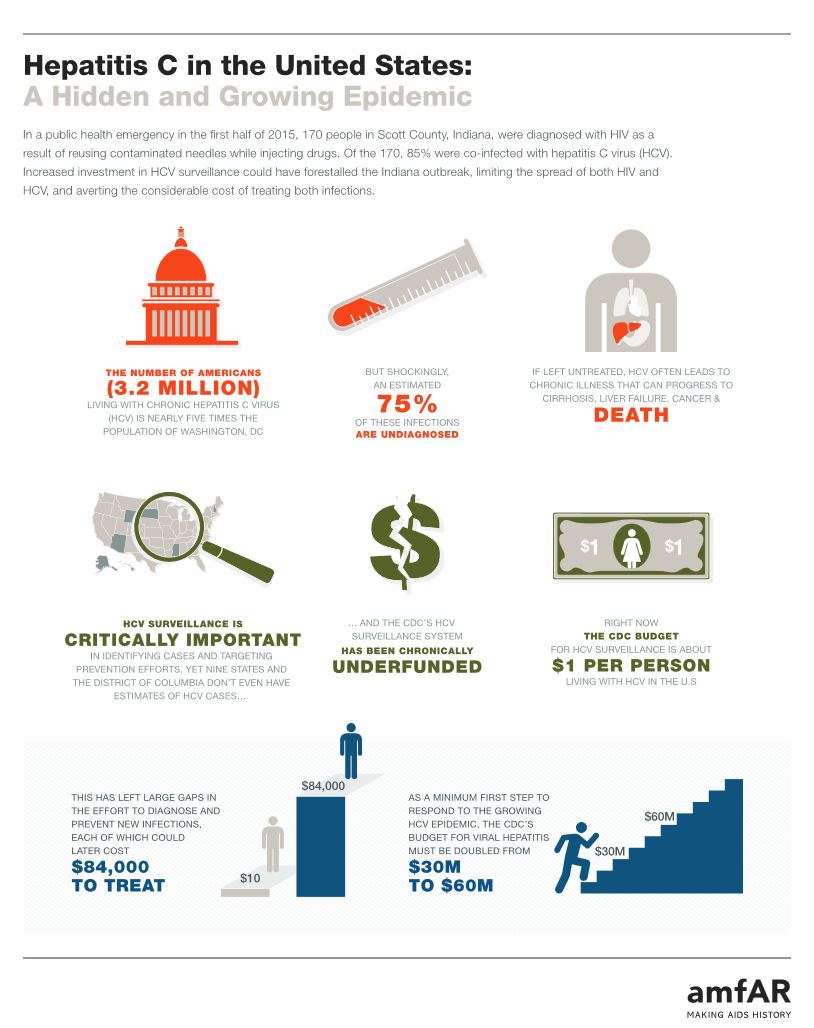 May 2017
In a public health emergency in the first half of 2015, 170 people in Scott County, Indiana, were diagnosed with HIV as a result of reusing contaminated needles while injecting drugs. Of the 170, 85% were co-infected with hepatitis C virus (HCV). Increased investment in HCV surveillance could have forestalled the Indiana outbreak, limiting the spread of both HIV and HCV, and averting the considerable cost of treating both infections.
The infographic is available here.
Lack of Syringe Services Programs Adds Up to Big Costs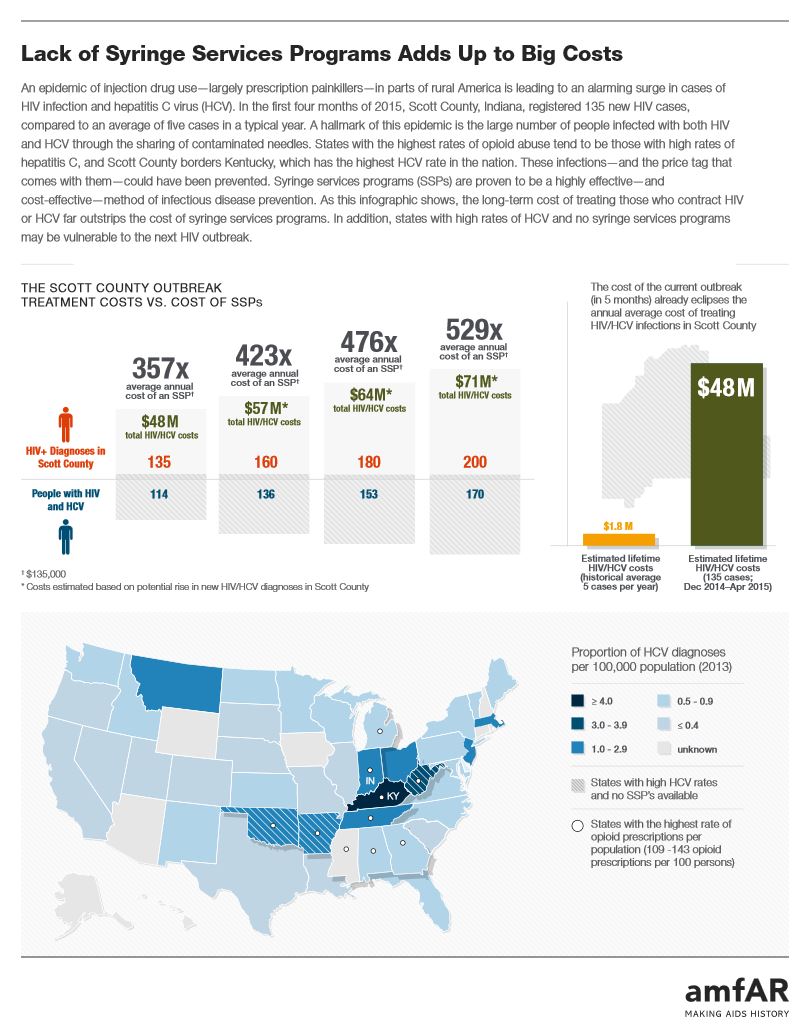 May 2015
As this infographic shows, the long-term cost of treating those who contract HIV or HCV far outstrips the cost of syringe services programs. In addition, states with high rates of HCV and no syringe services programs may be vulnerable to the next HIV outbreak.
The infographic is available here.
Syringe Services Programs: Myth vs Fact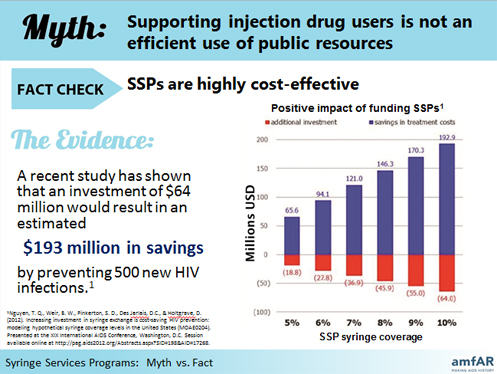 October 2013
In 2009, Congress lifted the 21-year ban on federal funding for Syringe Services Programs (SSPs; also known as Syringe Exchange Programs), allowing states to maintain and expand their SSPs using federal dollars. Two years later, Congress reinstated the ban, despite the evidence that SSPs prevent HIV infection, promote safety for the public and law enforcement, and save taxpayer dollars. While a variety of medical, scientific, and faith-based organizations recognize the benefits of SSPs, barriers to SSP funding remain in place. This powerpoint serves as an educational tool on the issues surrounding SSPs and poises advocates to lobby Congress to remove the ban on use of federal funding for SSPs.
The slides are are available here.
Additional Resources
The President's Commission on Combating Drug Addiction and the Opioid Crisis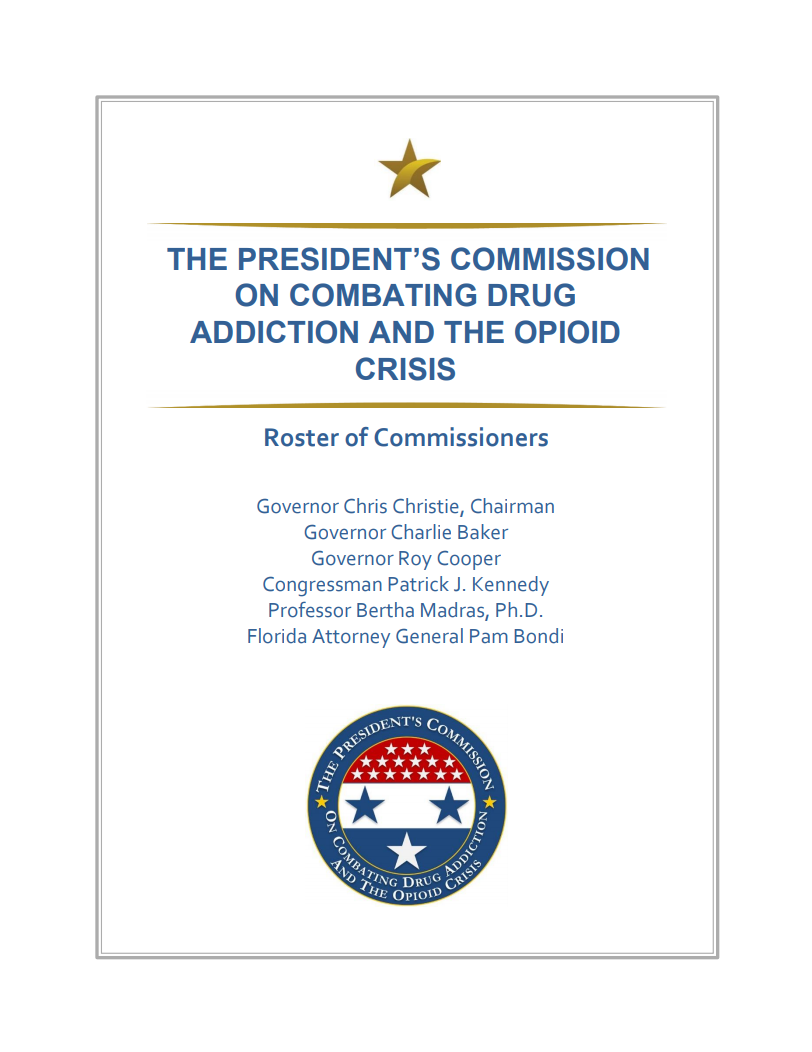 November 2017
In March of 2017, President Trump signed an executive order that established the President's Commission on Combating Drug Addiction and the Opioid Crisis. The Commission has been chaired by Governor Chris Christie along with Governor Charlie Baker, Governor Roy Cooper, Comgressman Patrick Kennedy, Prof. Bertha Madras, and Florida Attorney General Pam Bondi. In November of 2017, the Commission released its final report with more than 50 recommendations of actions to be taken at the Federal, state, and local government levels on ways to improve programs, services, and to combat the opioid epidemic.
The full report is available here.
Monitoring the Hepatitis C Epidemic in the United States: What Tools are Needed to Achieve Elimination?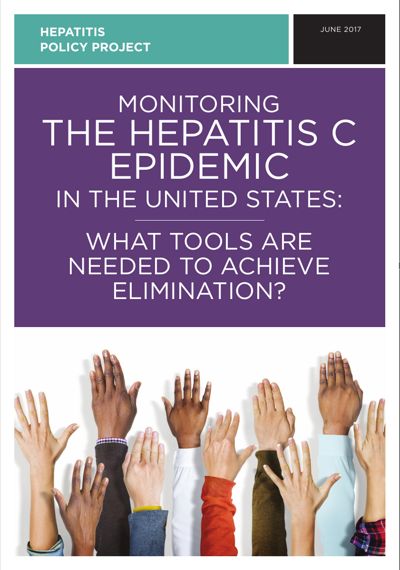 June 2017 O'Neill Institute for National and Global Health Law
Hepatitis C is the most common cause of viral hepatitis infections in the US, and it can cause severe health complications such as liver cancer or death. It is estimated that 3.5 million Americans currently have Hepatitis C, yet there exists limited data monitoring or case surveillance conducted to determine the full scope of the disease in the US and to inform efforts to reduce prevalence. This brief focuses on the current state of Hepatitis C data monitoring and surveillance, and identifies new practical and achievable policies and actions to strengthen our capacity to work toward elimination.
The report is available here.
Attorneys General Letter on the Opioid Epidemic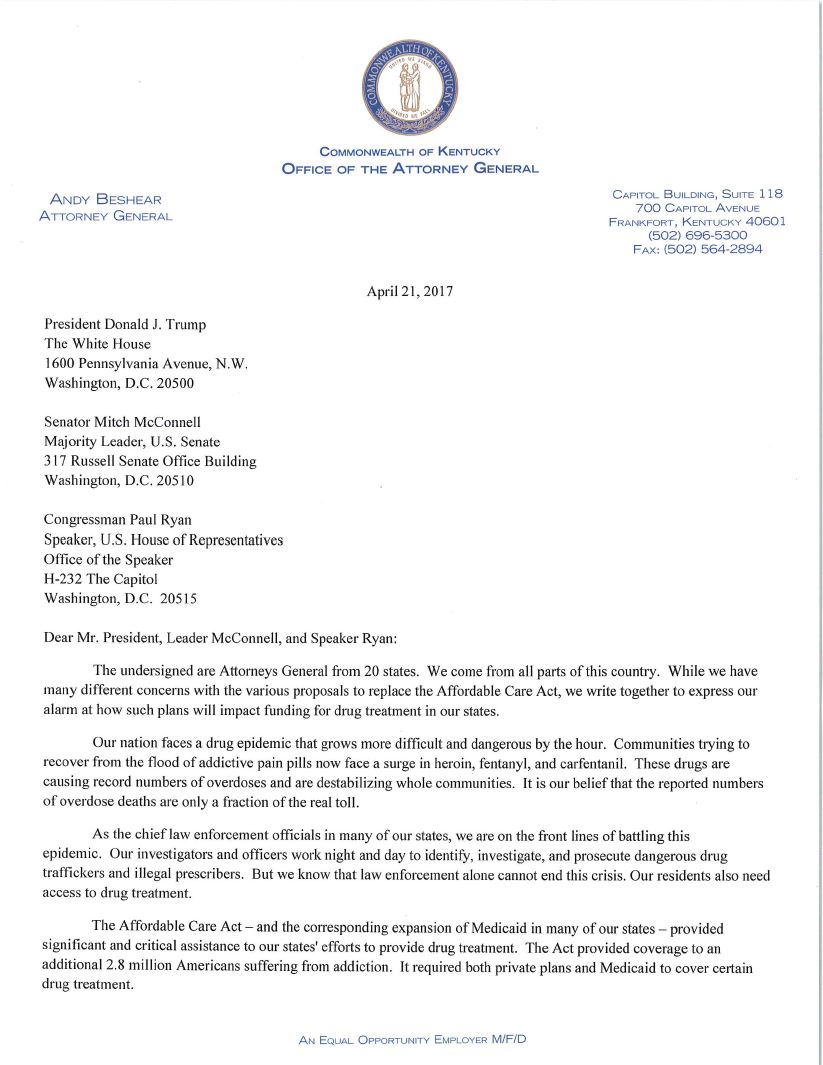 April 2017
On April 17, 2017 20 state Attorneys General sent a letter to President Trump, Senator McConnell, and Congressman Ryan highlighting the important role that Medicaid plays in their states in providing drug treatment services and concerns if Medicaid funding were limited or reduced. Currently, approximately 25% of all drug treatment is paid for by Medicaid.
Signatories to the letter were:
Andy Beshear - Kentucky
Hector H. Balderas - New Mexico
Xavier Becerra - California
Douglas S. Chin - Hawaii
T.J. Donovan - Vermont
Bob Ferguson - Washington
Brian E. Frosh - Maryland
Maura Healey - Massachusetts
Mark R. Hering - Virginia
Jim Hood - Mississippi
George Jepsen - Connecticut
Peter Kilmartin - Rhode Island
Lisa Madigan - Illinois
Tom Miller - Iowa
Janet Mills - Maine
Karl A. Racine - District of Columbia
Ellen F. Rosenblum - Oregon
Eric T. Schneiderman - New York
Josh Shapiro - Pennsylvania
Josh Stein - North Carolina
Viral Hepatitis Action Plan for 2017–2020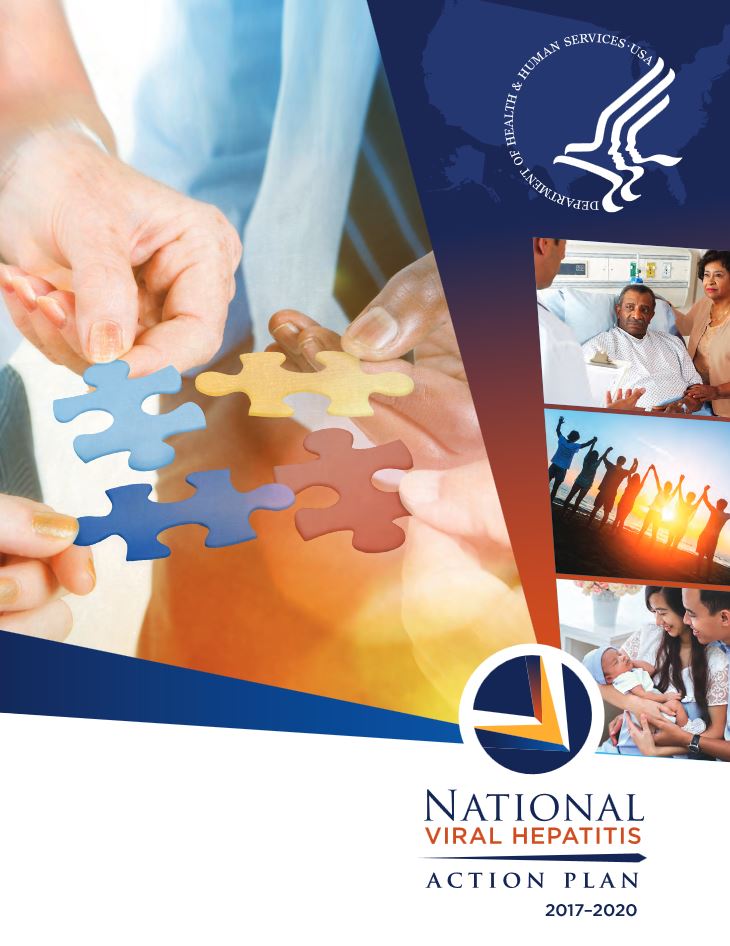 January 2017
U.S. Centers for Disease Control and Prevention (CDC)
The National Viral Hepatitis Action Plan (2017-2020) is our nation's battle plan for fighting viral hepatitis in the United States. The updated plan outlines strategies to achieve four major goals and includes indicators to help track progress between now and 2020. The Action Plan was developed collaboratively by representatives from 23 federal departments, agencies, and offices with recommendations provided by states, counties, Tribes, cities, and organizations around the country.
The report is available here.
Increases in Drug and Opioid-Involved Overdose Deaths - United States, 2010-2015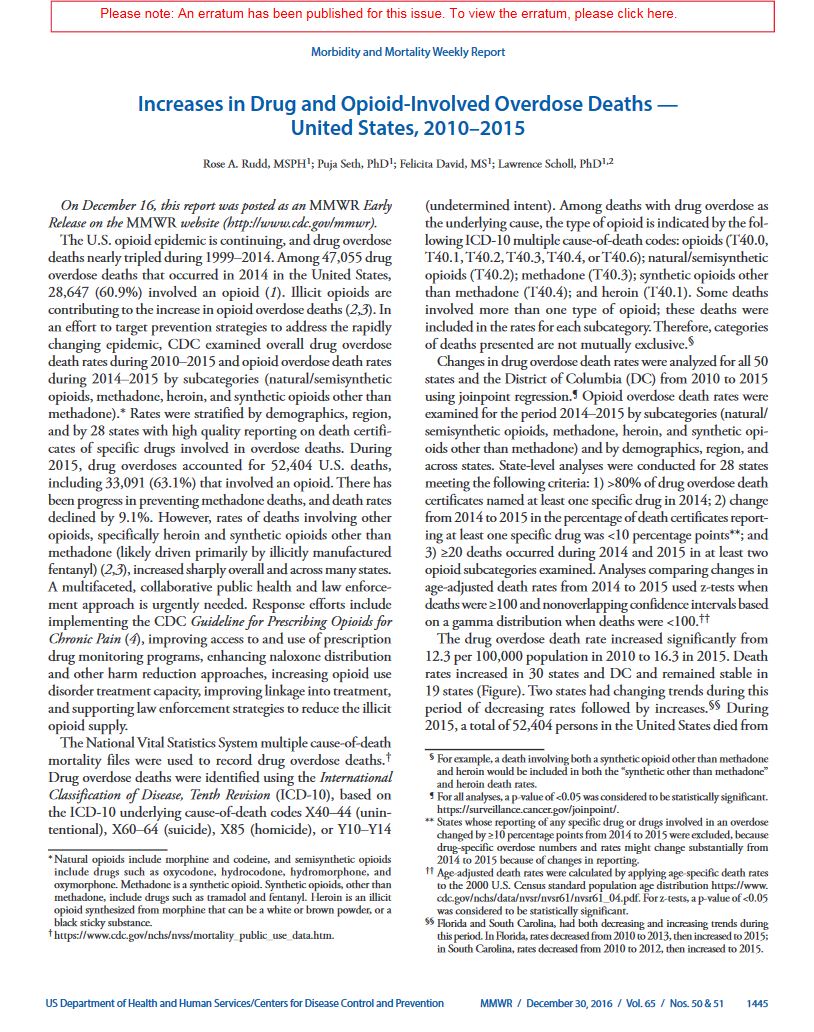 December 2016
U.S. Centers for Disease Control and Prevention (CDC)
The U.S. opioid epidemic is continuing, and drug overdose deaths nearly tripled during 1999–2014. Among 47,055 drug overdose deaths that occurred in 2014 in the United States, 28,647 (60.9%) involved an opioid. Illicit opioids are contributing to the increase in opioid overdose deaths. In an effort to target prevention strategies to address the rapidly changing epidemic, CDC examined overall drug overdose death rates during 2010–2015 and opioid overdose death rates during 2014–2015 by subcategories (natural/semisynthetic opioids, methadone, heroin, and synthetic opioids other than methadone).
The report is available here.
Facing Addiction in America: The Surgeon General's Report on Alcohol, Drugs, and Health
November 2016
U.S. Department of Health and Human Services (HHS)
The Report discusses opportunities to bring substance use disorder treatment and mainstream health care systems into alignment so that they can address a person's overall health, rather than a substance misuse or a physical health condition alone or in isolation. It also provides suggestions and recommendations for action that everyone—individuals, families, community leaders, law enforcement, health care professionals, policymakers, and researchers—can take to prevent substance misuse and reduce its consequences.
The report is available here.
The Opioid Epidemic: By the Numbers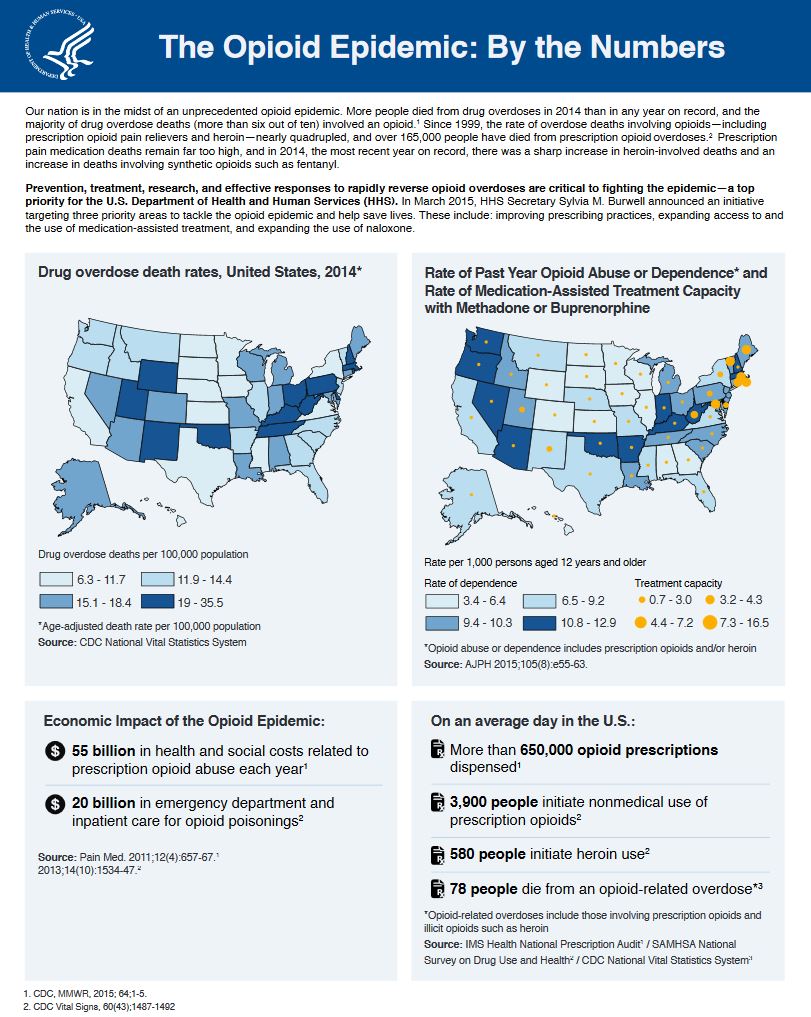 June 2016
U.S. Department of Health and Human Services (HHS)
Our nation is in the midst of an unprecedented opioid epidemic. More people died from drug overdoses in 2014 than in any year on record, and the majority of drug overdose deaths (more than six out of ten) involved an opioid. Since 1999, the rate of overdose deaths involving opioids—including prescription opioid pain relievers and heroin—nearly quadrupled, and over 165,000 people have died from prescription opioid overdoses. Prescription pain medication deaths remain far too high, and in 2014, the most recent year on record, there was a sharp increase in heroin-involved deaths and an increase in deaths involving synthetic opioids such as fentanyl.
The report is available here.
CDC Guideline for Prescribing Opioids for Chronic Pain — United States, 2016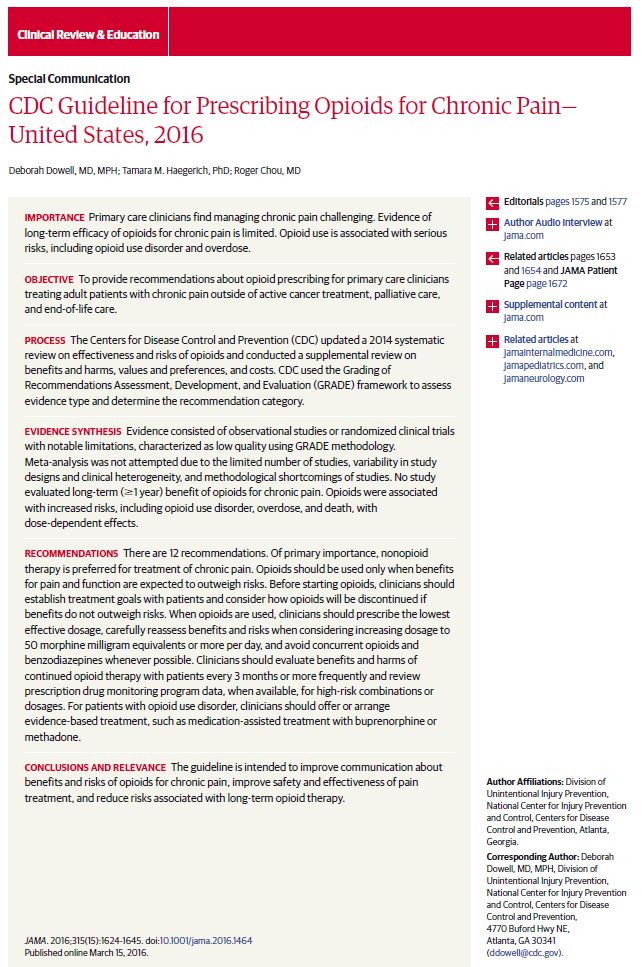 March 2016
U.S. Centers for Disease Control and Prevention (CDC)
This guideline provides recommendations for primary care clinicians who are prescribing opioids for chronic pain outside of active cancer treatment, palliative care, and end-of-life care. The guideline addresses 1) when to initiate or continue opioids for chronic pain; 2) opioid selection, dosage, duration, follow-up, and discontinuation; and 3) assessing risk and addressing harms of opioid use.
The report is available here.
National HIV/AIDS Strategy for the United States: Updated to 2020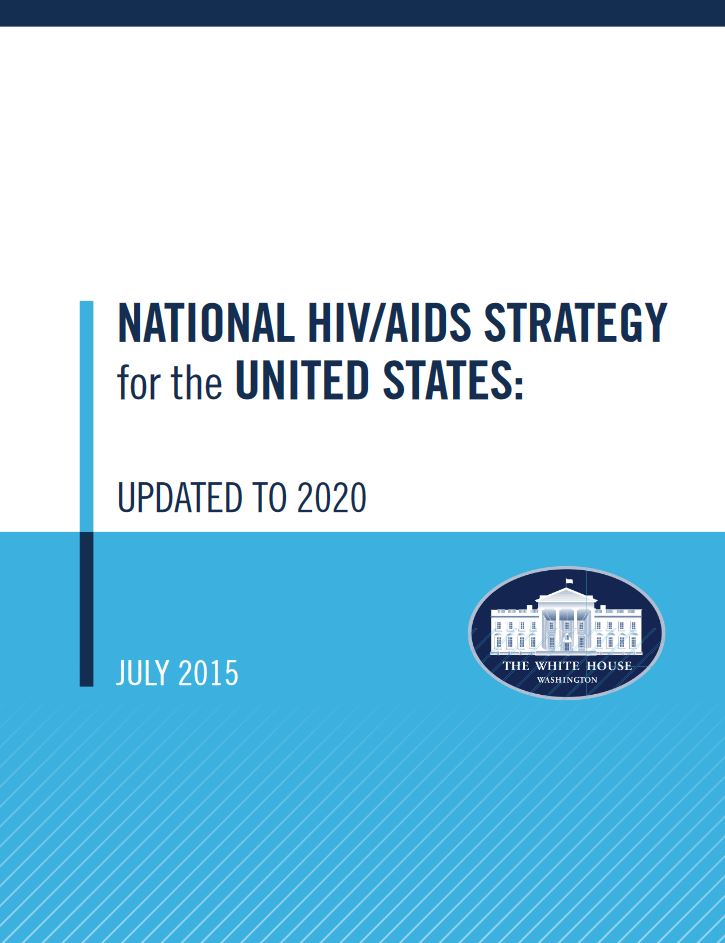 July 2015
Office of National AIDS Policy (ONAP)
The National HIV/AIDS Strategy is a five-year plan that details principles, priorities, and actions to guide our collective national response to the HIV epidemic. First released on July 13, 2010, the Strategy identified a set of priorities and strategic action steps tied to measurable outcomes for moving the Nation forward in addressing the domestic HIV epidemic.
The report is available here.
Addressing Prescription Drug Abuse in the United States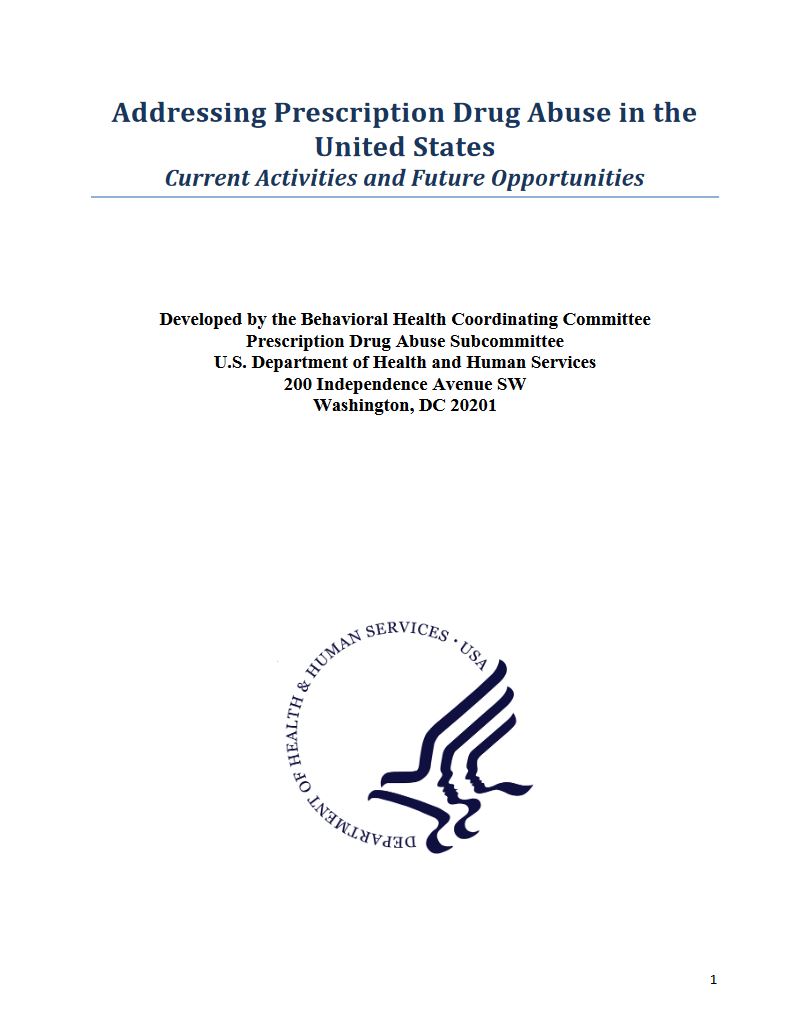 September 2013
U.S. Centers for Disease Control and Prevention (CDC)
The United States is in the midst of an unprecedented drug overdose epidemic. Drug overdose death rates have increased five-fold since 1980. By 2009, drug overdose deaths outnumbered deaths due to motor vehicle crashes for the first time in the U.S. Prescription drugs, especially opioid analgesics, have been increasingly involved in drug overdose deaths. HHS has been at the forefront on this issue, working with partners at the federal, state, and local levels to implement policies and programs to reduce prescription drug abuse and improve public health. HHS routinely coordinates with the Office of National Drug Control Policy (ONDCP) and the Departments of Justice, Education, Veterans Affairs, and Defense on this issue.
The report is available here.